Costa Rica, Nicoya peninsula, Guanacaste province. Listen! In the village of Guaitil, only the light, wind, and the smell of clay attract your attention. However, the heart of the village beats to the rhythm of the potters' towers. The art of terracotta, ancestral, cultural and deeply inscribed in the DNA of the chorotega people, cradles the days of the natives. The pottery of Guaitil, ceramics of pre-Columbian origin, carry within them multiple stakes. Let's discover a century of culture coming from Chorotega's soul.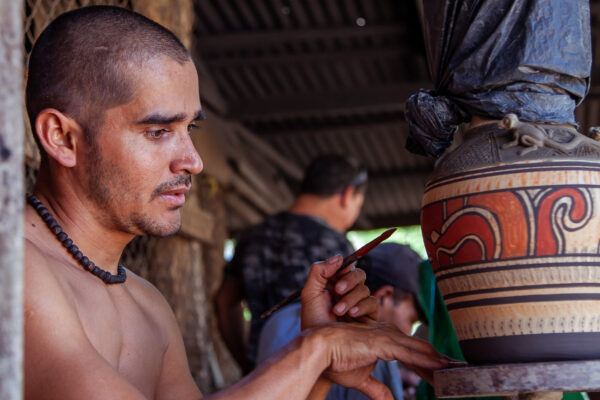 Guaitil pottery – Materials from San Vicente de Nicoya
Chorotega pottery uses only local materials. Today, most tourist objects are decorated with chemical paints and coated with varnish for a better shine. Chorotegas collect clay in the surrounding Costa Rican mountains, those of San Vicente de Nicoya, more precisely. The craftsmen load it on a wagon pulled by oxen, in accordance with ancestral methods, and bring it back to the village of Guaitil.
Shelled with a solid wood mortar and filtered through a sieve (canvas), the clay is then mixed with sand called "iguana sand". Then, as tradition dictates, with shovels and precise gestures, it is incorporated into the water and trampled on by the potter. Then, like a pie dough, it is kneaded and rolled until it can be modeled.
The clay is then turned to create the sculpture itself. Indigenous artisans polish their works with "zukias or sukias", stones used as grindstones.
The cooking takes place outdoors at low temperatures in a traditional dome-shaped oven called "borno". The pottery is then wrapped in wood fuel, hence the black deposits.
Then, the decorative motifs are traced on the partially dry ceramic using entirely natural materials. Sponges and brushes are guided by precise fingers to form totemic animal drawings.
All this process makes Guaitil pottery and these pieces absolutely unique.
???? Did you know ?
A container cooked at low temperature is stronger. It only breaks if it is in direct contact with fire.
Clay is also used to make tiles for house roofs.
Connection to Chorotegas through ancestral know-how
Where does this passion and know-how come from? Johnny Sanchez Grijalva, a chorotega craftsman in Guaitil explains to us. He is sitting in front of his potter's wheel. This man has always lived in this typical village, populated by natives. He remembers very well about having to learn everything from his grandmother, at the age of 11. As far as he is concerned, exercising this profession goes beyond satisfying a passion. Through his pottery, he perpetuates the wealth of his ancestors. Working with ceramics is like a travel through time. He entrusts us that when he kneads the clay or paints his pottery, he finds his ancestor. She is there, close by, looking at him, guiding him and protecting him in his creations. He does not even plan to practice this profession elsewhere than in this workshop in Guaitil.
I go back in time and find my grandmother
Plates, pots, dishes, jars, figurines of Costa Rican fauna are together on the shelves of the shop. Quetzals, toucans, tropical birds, arabesques, all dressed in black, white and red, decorate these hundreds of art pieces of ochre or black color. They even say that shamans bless the pottery.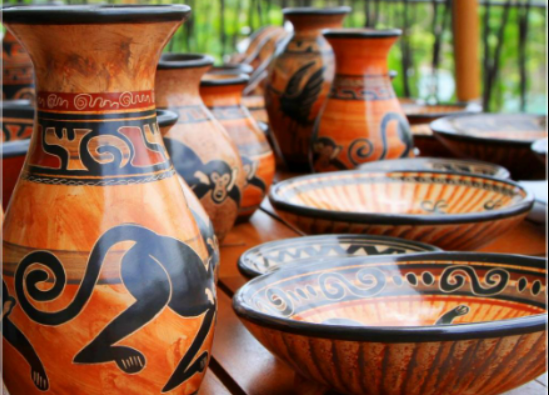 Guaitil – A Costa Rican village with multiple stakes
The most important thing is to preserve my culture
Poteries de Guaitil, an eco-friendly purchase
Previously destined for the inhabitants of the village, the pottery of Guaitil is now sold to all and especially to tourists. Kitchen utensils and useful instruments give way to decorative objects and trinkets of all kinds. However, continuing the tradition remains a crucial issue. The idea is not to attract mass tourism and produce in large quantities at the expense of know-how. The chorotega soul invests into each sculpture, mold and dish where it is then up to each one to respect this aspect.
This is why it is essential to learn about the pottery workshop to contribute to the promotion of the heritage of Guaitil and the fair remuneration of ceramists and this art craft.
Perpetuating the chorotega culture
Originally from Mexico and Nicaragua, the Chorotegas settled around the 5th century in Costa Rica and Honduras. They fish, hunt and grow corn, cassava and tobacco. Women make these famous pottery pieces. Their priests are renowned experts in astronomy and mathematics. Of polytheistic religion, they worship, among others :
the god Tipotani considered as the creator ;
the god Nenbithia and the goddess Ninguitamali, a divine couple embodying the sun and the moon.
This indigenous community has between 500 and 1,000 inhabitants spread all over an area of about 2,000 hectares. GITPA (International Working Group for Indigenous Peoples) says that there are 8 different cultures in Costa Rica. Chorotegas represent 2.4% of the national population in 2021. 35.5% of them live below the poverty line, hence the importance of promoting fair trade. Despite the Indigenous Law of 1977, the struggle for the recognition of the land and the settlement of the State's debts to the Indigenous people remains topical.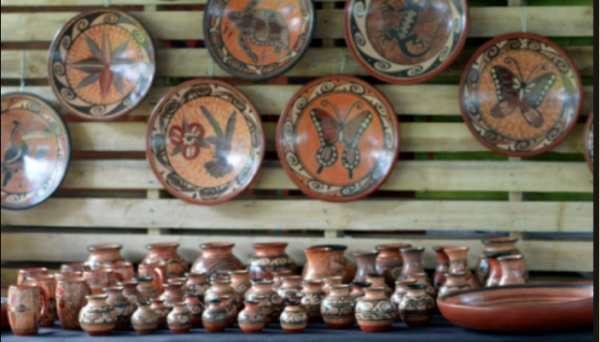 Ceramics – Ecocitizens Souvenirs Ideas to Bring Back from Costa Rica
If the Guaitil pottery combines beauty, practicality (yes, they fit in the suitcase) with typical and picturesque objects, here are some ideas to bring back from Costa Rica. Just put them in the back of your pockets of eco-friendly travelers:
molas: traditional fabrics of the Nicoya Peninsula Indians;
the masks of the Boruca tribe ;
marimba wood subjects (typical of Guanacaste) ;
coffee, chocolate…
Our best ideas  ? ????????
a tree to plant on site to participate in Costa Rica reforestation. We're sending you GPS coordinates so you can track its growth
the video of a howler monkey accompanying your breakfast ;
the memory of a moment of yoga and reconnection to nature ;
Conversely, please boycott items made with tortoise scales, feline fur or quetzal feathers.
As you know, we offer stays in Costa Rica to travel differently. The pottery of Guaitil, besides a picturesque entertainment, is a showcase of Native Indian culture. These ceramics carry within them the heart of the Choteregas. They transmit the memory of their ancestors and represent a major key to the future of their descendants.
I want to travel smart. I contact Los Nancites to learn more about ecotourism.
Sources :
Témoignage de Johnny Grivaljo, potier chorotega
Document du GITPA